Prince Partha's Potions' LEARNING CURVES and Growth
Prince Partha's Potions' LEARNING CURVES and Growth
Last Update:
August 09, 2021

If nothing else, Prince Partha's Potions' learning curves and growth have been very steep these past few days.
I love learning but catching up took some effort.
And just when I thought I had caught up, he published a threatening blog post today.
Nothing beats a good Stilton with a bottle of Chianti but the Prince is pushing the limit here!
The Return to Being Human
---
Finally!
Maybe, it was the block of cheese that made him speechless. Whatever it was, I am very thankful because it gave validation to the fact that I have not been paying too much attention to the algorithms.
As instructed by the Prince, I have just been writing as though I am talking to a friend, or 2, over a good bottle, or 2.
Thank you, Ashley, for getting us back on that highway.
The Steepest Learning Curve . . . Ever!
---
Learning curves usually take us to a place of comfort.
You learn, implement and rest because you get it.
But the Prince defies every tradition and proven theory.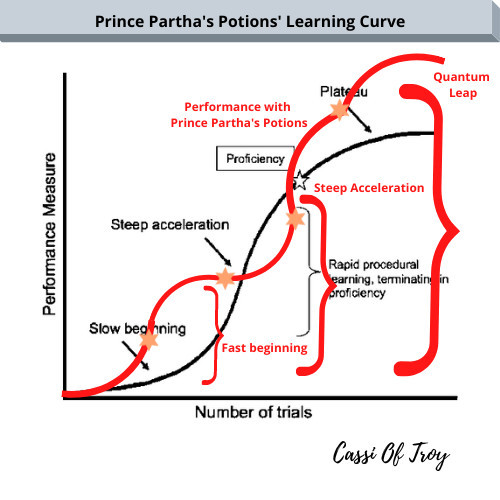 You don't plateau, you bounce!
You don't accelerate, you take quantum leaps!
There really is no time to breathe.
Fast and Furious on Steriods
---
That is how I have been feeling these past few days.
Thankfully, I am all caught up now. (I do not stay down for long, Partha.)
2 blog posts on my websites today, a bucket full of keywords in my inventory, an e-book for my mailing list and my WA support in action.
It's raining here this afternoon, but I am off to get some weight training done on the roof.
For those of you who have not yet sampled the Prince's Potions, may I suggest that you do so, sooner rather than later?
Just do it! Everything works!!
There are about 4 months until Christmas. That means preparation for Black Friday and the end of 2021.
Give yourself a great head start for 2022!
Cassi
CassiOfTroy's Posts
288 posts