How Do You Become A Success Without TAKING CHANCES?
How Do You Become A Success Without TAKING CHANCES?
Last Update:
September 09, 2021

The short answer is, you don't! To quote Estée Lauder:
"No one ever became a success without taking chances.
One must be able to recognize the moment and seize it without delay."
Success, like life, is about taking risks. Sometimes you win and sometimes you lose.
My Love Affair With Perfume
---
My first perfume, as a teenager was Estée Lauder's, Youth Dew. Like many people, I was of the view that perfume was only worn when you had somewhere to go. But, Estée Lauder changed that for me.
The more I researched her life, passions and motivation the more I grew to love her. Still, to this day, the only perfumes I wear are Estée Lauder's perfumes. Beautiful is now my preferred choice and I wear perfume all the time - for my enjoyment.
My love affair with perfume resulted in a love affair with me, thanks to Estée Lauder.
Our Life Stories Change Lives
---
As I wore her perfume, I would lay for hours in my room absorbing her life stories and how passionate she was about helping women to see the beauty in themselves.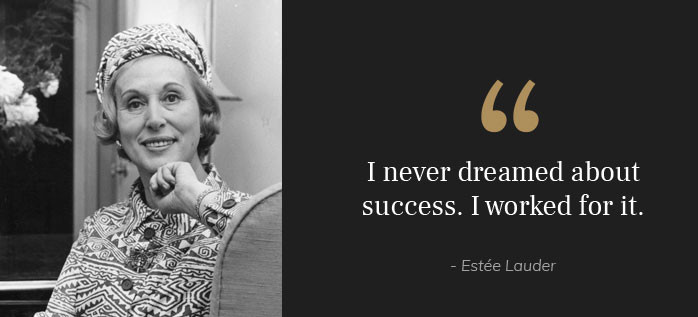 "Estée was the quintessential entrepreneur who refused to listen to experts or settle for anything less than the very best. She constantly challenged the status quo and is described as someone you simply couldn't say no to." (SOURCE: elcompanies.com)
Estée Lauder's life stories inspired and motivated me at a very young age. They helped me to imagine how I wanted to be and then gave me much-needed insight into what it took to achieve success.
And isn't that what we, as Content Marketers, also aim to do? Inspire and motivate others to take action?
Each Story Is Unique
---
Our Queen of No Fluff, Diane, has launched a series of WA blog posts called In The Scorpion's Den.
It provides an up-close and very personal interview with our WA members. The opportunity to get into their psyche and understand their life stories and what motivates them is priceless.
Rightly so, the Queen launched her series with Prince Partha, our man of few words whose love for us knows no bounds.
From the Prince, I have learned that without a resilient mindset and the discipline to write every SINGLE day, I may never succeed in Content & Affiliate Marketing.
When he shares that, it is from a position of experience. That is what life stories give us and each one of us will take away something different and something that we need to help us on our journey.
It Feels Good To Step Into The Light
---
2 years ago, I would not have been comfortable sharing my life stories. This week I felt honoured and humbled that Diane invited me to lean in and share some of my life stories.
Being a member of WA continues to be cathartic for me and I am grateful for every opportunity to share and pay it forward.
I hope that our experiences help you as you strengthen your commitment to succeed online and I look forward to reading your life stories in The Scorpion's Den.
Thank you!
Cassi
CassiOfTroy's Posts
288 posts