Day one blog.
Last Update:
September 18, 2021

The beautiful Ice Rink at Union Square, San Francisco.
What a fun gig that job has turned out to be. I keep getting called back to do this job now and I am not sure how much longer my skin will allow me to. I managed to receive second and third-degree burns on my face when I was 17 years old. The radiator in my first car blew up in my face. So, working the ice during the day I get the sun twice. I will be wearing a mask this year to help with that. Pre covid, I was required to wear a nice hat, that did not help block the sun.
The reason it seems I get called on this job over others is of my ability to work with anyone, and I keep 911 phone calls to a minimum. I have mechanical, electrical, and people skills, so I use them and I do not do just enough to keep the job, my mindset is many people are coming to play on the ice, and I want to see them all have fun. And working with this company I get helpers, and a means to solve problems. Sad to say, the other companies I have worked for I found myself all on my own. I would spend my money to make things happen that never came back, work crazy hours, and got paid the same as the kids working part-time hours.
So, by doing what I do naturally, and having the good luck to find a company that enjoys what I do as much as I do, I get to play for part of my work.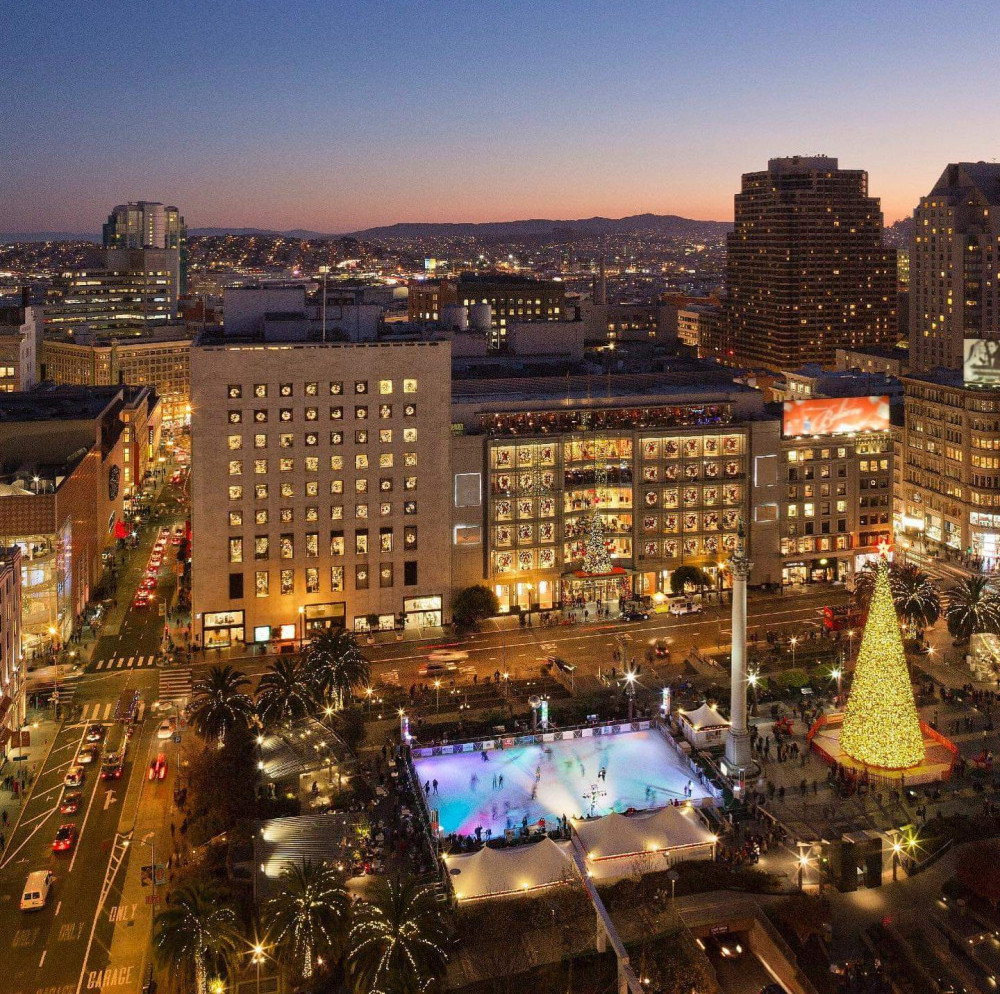 I love this photo, one has to rent a hotel room to capture this shot, and again that is the ice rink at Union Square in San Francisco. And that leads me to my next point. I also love to take photos. All these photos in my blogs are mine, I take photos of my trucks, projects I am working on, work and stuff that catches my eye. Moon rises, sunsets. I take so many that now I am having to learn how to file and categorize them. Really difficult finding the photos I want to post right now. Another learning curve. Does anyone out there have ideas I am open to learning an easier way than came up with so far?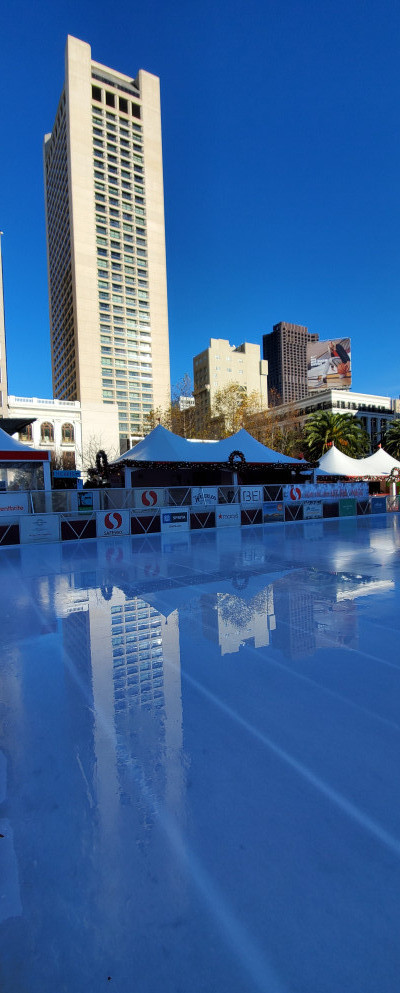 There is a photo of the hotel you must rent a room in to get the shot in the previous photo in this blog reflecting in my ice after the first ice cut of the day. I had fun getting those shots and I only have about a 5-minute window to capture it. Really wonderful on bright clear mornings. Something that is not common in DownTown San Francisco. So I had 5 minutes before the ice changed on me and not many days that were this clear. I love the bright blue sky in this photo.
Taking what I have already done and building on it.
So this blog is a practice blog, One can read all day long and watch a million videos on how to do something, but unless I get in there and start doing it, Nada. No results. So this blog I wrote on my laptop and I could see how to get photos in here. Yesterday's blog I wrote on my phone using the DeX mode Samsung offers. in that mode, I did not see anything but the H1. H2 and H3 options, on my laptop it is pretty much the same as the WA site content tool. And my aim is to learn how to use both, start working on my website and build two new ones.
And once the Ice Rink is operational and all the many major and minor things are completed and we open the ice, then I have about a 45-minute window every 2 hours to work inside of and that will be spent learning and growing my online business. Meanwhile, I only have a week to get ready here at home, figure out what I am packing and taking with me. I have my mobile kitchen, sound studio and office all to consider and pack.
I have timed myself and this post took me 1 hour and 20 minutes to get to this point. I can write 700 words in about 20 minutes when I am on a roll. So my goal for tomorrow's blog is to shave off 10 minutes.
See ya all tomorrow.
Have a great productive Saturday ya all.