Success at Hospital
Last Update:
April 15, 2021
As some of you know I had to go to Hospital a couple of days ago 14/4/20 and came home yesterday 15/4/20 in the afternoon.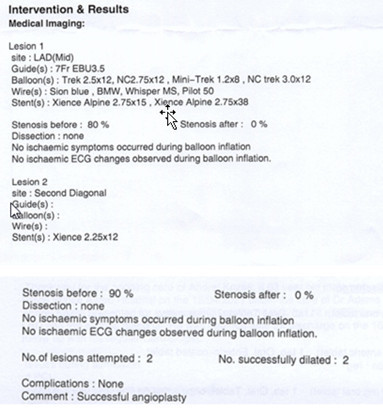 It was originally planned to have one stent put in one of my arteries via the groin area due to it being 80% blocked however I ended up with more than I bargained for.
They found another Artery was 90% blocked which somehow was missed in the original scan prior to surgery.
During the procedure, I heard the doctor talk about putting in another stent so now it became 2 instead of one.
I must have missed something as when the surgeon saw me later after the operation he told me he had to put in 3 stents overall.
I did get confused on that as I didn't remember him talking about the third stent.
Initially, I thought he got it wrong but after reading the report of the result which is attached there were 2 placed on one artery these are the ones I heard him talking about.
Then 1 on another branch of an artery which is the one with 90% blockage but it was a smaller area so perhaps that is why it got missed in the original report or misread (who knows) due to the positioning of the artery.
I didn't hear him say anything about that then again was having pain in my neck and lower back as a result of lying flat and wasn't allowed to move my head around.

I have lower lumbar and neck issues as well hence the pain due to the flat position but they gave me some pain killers during the surgery so that did ease the pain thankfully..
The other artery seemed to go smoothly and he had no issues with that but the artery with the 2 stents was the one I was hearing him talk with his assistant as he was having issues trying to get in in the right position especially the second one in the same artery.
He got to the stage of nearly giving up on the position and after a couple of minutes of thinking, he said he will try a third time, and fortunately for both of us he managed to get it exactly where he wanted.
He wanted them to be as close as possible to each other and was having difficulty doing so.
I could hear him saying his back was getting sore remember he was doing this all day and I was the last patient to see as they canceled two more scheduled after me due to the time factor.
I had been waiting since 7 am and mine started at 4.00 pm and finish at 5.40 so being without food and water since 9 pm the following day was not fun.
But now it is done so just having a rest for the next couple of days and walking slowly and carefully.
Eventually, once I get better on this the next step is the see the spinal surgeon for the upper neck issues as there is some nerve issue with the spine hence the added pain.
Not looking forward to if that if spinal surgery is required, along with working on the discs in the lower lumbar area.
AH the fun and games in life, perhaps I just need a total body overhaul instead LOL
Catch you all later
Apache1's Posts
163 posts