For Grammarly Premium Uses
Last Update:
January 31, 2021
This is mainly for those who use Grammarly, the premium version.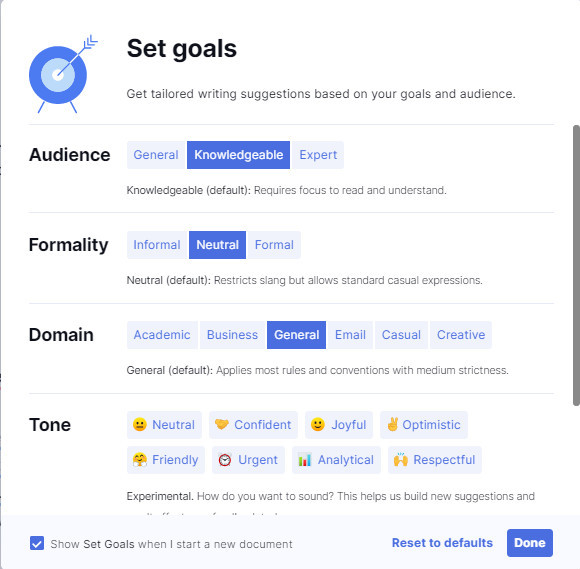 As you know, there is a setup before you start using Grammarly, as shown above.
I would like to know your preferred setting; do you use it for most of your posts.
This for each section as shown above.
For those unaware of what each part consists of in each section, here it is, which will give those a greater understanding of a part of what Grammarly offers.

Audience
General: which is easy for anyone to read with minimal effort
Knowledgeable: as shown above, this is by default
Expert: May require rereading to understand (this might be more for detailed technical articles)

Formality
Informal: Allows slang and other more causal usages
Neutral: As shown above, this is by default

Formal: Restricts slang and colloquialisms
Domain :


Academic: Strictly applies all rules and formal writing conventions
Business: Applies almost all rules but allows for some formal conventions
General: As shown above, this is by default.
Email: Applies almost all rules, plus email writing conventions
Casual: Appies most rules but allows stylistic flexibility
Creativity: Allows some intentional bending of rules and conventions
Tone

This section doesn't give reasons as the other sections, but you can select all or what you wish to use here.

The other ones above are just one choice.
Update:
Sorry Guys just realized that I left one more Goal which I forgot to scroll down it is called intent and is shown below the first image at the top.
Like Tone, this can be selected either as one or all or a mixture
I know this can depend on the particular article but in general, which you use and why.
The image above is the default image when setting your goals before you start your article.
Your thoughts and ideas are certainly appreciated.
Thanks
Andre
Apache1's Posts
163 posts