Coaches Abie & AJ - A Helping Hand any Day!
Last Update:
July 14, 2021
Yep you read it correctly, "A helping hand any day" Q & A blog post, stupid or not doesn't matter, no question is stupid - fire your questions and keep it going. You have a choice to mark them as community.

We grind at our craft up to 19 hours daily give take, don't matter the weather report, covid-19 or not, vacations, thanksgivings, holiday seasons greetings etc.

We may not know the answer to everything, in fact, "no one can claim they know everything" -- however we are here, we are happy to be at the front lines helping you folks.
We have managed to lower our "Helper" points difference of '1' -- a single week's performance; which we are truly so happy about, proves our point, and choice to create this blog post.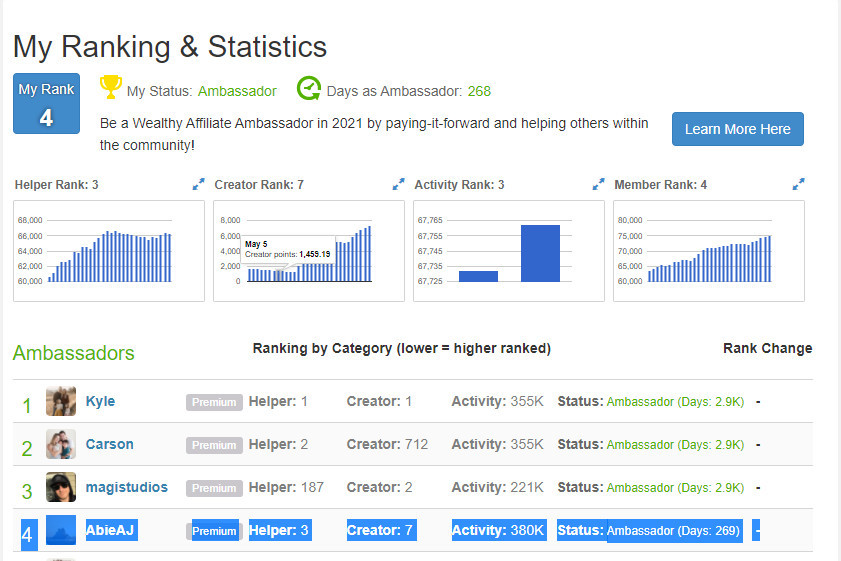 We are not asking for self-worth or thank you and it is NOT a bragging post either by any means. We are simply offering our hand to whomever wants our help, knowingly we may not know the answer to everything.
There's 24 awesome other Ambassadors, 175 more awesome members and over 2 million subscribers on the WA platform (correct us if we are wrong) and still may not know the answer to everything.

Enjoy a terrific Sunday you-all.


Abie & AJ



JOIN US TODAY
AS A PREMIUM PLUS + MEMBER.

PP+ Members --
200+ Expert Classes Per Year --
50 Premium Websites --
Priority Expert Private Help --
Jaaxy Enterprise (Instant Competition Analysis)